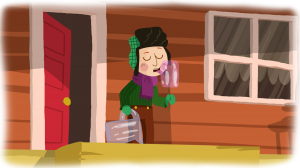 The summer time in Ballybeg can get very hot, luckily Garth and Bev have been through the time spiral and discovered the perfect way to stay cool, ice lollies!
Yummy and refreshing here's an easy recipe you can make with an adult, so that everybody stays cool!
Ingredients:
300ml of orange juice (you can use any juice you like, apple, blackberry, anything!)
300ml of water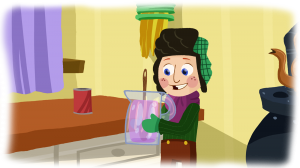 Ice lolly moulds
Method:
Mix the orange juice and water together in a jug then pour into the ice lolly moulds.
Put the ice lollies in the freezer for about an hour.
Take out of the freezer and wait a few minutes for the ice lolly to loosen from the mould.
Then gobble it up!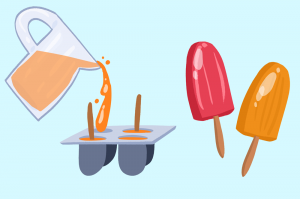 Extra yummy tricks:
Instead of using pre-made juice squeeze your own oranges, you'll need several large oranges to make 300ml
Add in fresh fruit chunks to your ice lollies for a delicious surprise! Pineapple and watermelon is especially tasty.