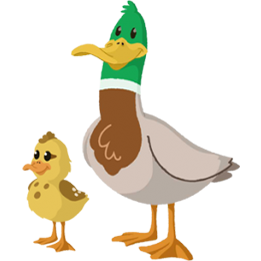 Ducks are birds that can fly and swim. Look at the duck's feet. They look different to other birds feet don't they? Their special feet are called webbed feet and the shape of them helps the duck to swim very well in water. Now watch the baby duck in the video below. See how she is swimming in the pool and yet her feathers still look dry. When you are in the shower or going for a swim your hair gets wet and it takes a while to dry. But when a duck is swimming her feathers stay dry and don't get wet. I wonder why that is?
How do Ducks Stay Dry?
If you can watch some ducks for a while you might notice that they spend a lot of time nibbling their feathers with their beaks. This is called preening. While the duck is preening she is spreading oil all over her top layer of feathers. The oil comes from a special place near her tail called a gland and when she spreads the oil over her feathers it makes her feathers waterproof. The water can't get through the first layer of oily feathers and so all of her feathers underneath stay dry and fluffy and keep her warm all over.
What a great idea! It's like Ducks have their own raincoats that never come off so they can spend all day in the water and not feel cold and wet.