You're a bit too young to fly a real jet engine, but here's a fun activity you can do that will teach you about pressure!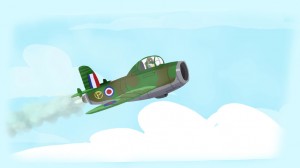 What you'll need:
- Scotch tape
- A drinking straw
- a long balloon
- 3 metres of nylon string
- trees, poles or chairs to tie the string to
How to do it:
1) Take one end of the string and tie it to a tree or a post
2) Slide the straw onto the string
3) Tie the other end of the string onto another post or tree, making sure the string is tight
4) Blow up the balloon and hold the opening so the air won't escape
5) Face the opening of the balloon towards the post you tied the other end of string to, rest the balloon on the string and tape the balloon to the string
6) Release the balloon!
Why did that happen?
When you let go of the balloon all of the air inside rushes out! Which causes the balloon to speed across the string!